Signs That A Memorial
Headstone Requires Renovation
Whilst memorial headstones are built to last, over the years, time will inevitably still take its toll. Wind, rain, ice, and air pollution can all lead to the gradual deterioration of a memorial's condition.

Whilst regular maintenance can keep a headstone looking good for longer, with time, most memorials will still require renovation to keep them looking aesthetically pleasing.

At Blackwell's Stonecraft we can provide a full renovation service to return memorials back to their former condition.

Here are the most common signs that a memorial requires something more thorough than a wipe down with soapy water.

Writing is difficult to read– If the writing on a memorial is becoming worn away and difficult to read, then the letters will need to be professionally repainted, re-gilded, or otherwise repaired.

Discoloured– If general cleaning of your memorial isn't removing the discolouration, then it will require attention from a professional. Trying to clean a memorial yourself with anything harsher than washing up liquid can do more damage than good. During a professional clean, safe chemicals are used to remove stubborn dirt and discolouration. The memorial may also be sanded down to restore it to its former glory.

All memorials are now required to be fitted with a NAMM fixing to ensure that they are safe and secure. If a memorial does not yet have a NAMM approved ground anchor, then this will need to be updated. An unstable, wobbly, or loose memorial is very dangerous and requires immediate renovation to prevent it causing anyone injury. For more information on this matter please click here.
Before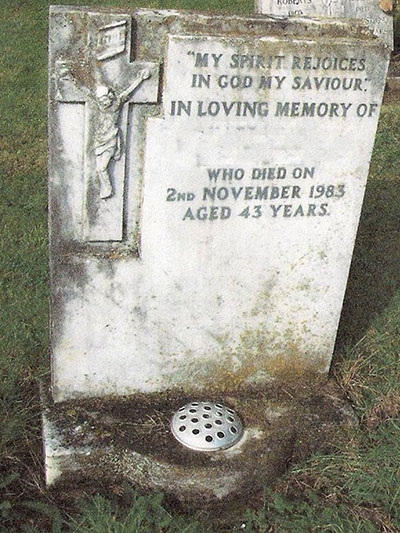 After